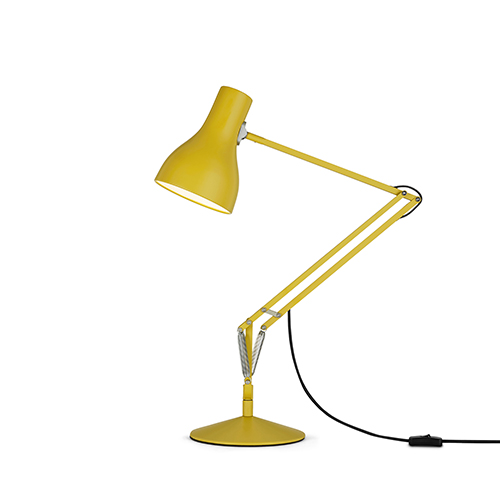 Other colour options are available.

This edition of the Type 75 Desk Lamp unites our best-selling desk lamp design with one of Britain's foremost clothing designers.
Margaret Howell has frequently championed the Anglepoise® Desk Lamp, admiring the similar design qualities that are the essence of her men's and women's clothing: simplicity, functionality, authenticity and timelessness.
The Margaret Howell Editions of the Type 75 Desk Lamp combine those same qualities, now synonymous with Anglepoise, with a touch of nostalgic and vintage style.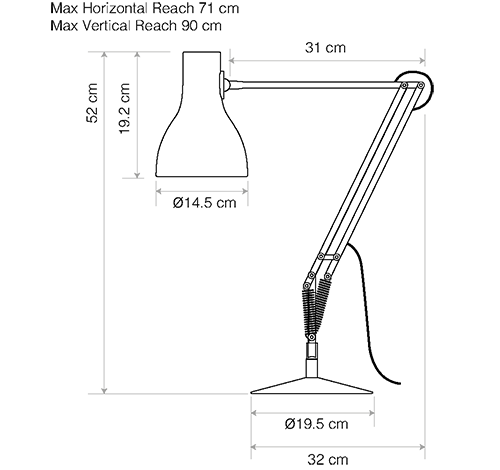 Type 75 Desk Lamp - Dimensions
Type 75 Desk Lamp - Maximum Reach



Product Information

Model: Type 75 - Margaret Howell Editions
Lamp Type: Desk Lamp
Designer : Sir Kenneth Grange

Dimensions: H52 x W43 x D19.5cm
Materials: Aluminium, Cast Iron, Plated Steel fittings
Cleaning: Clean with a soft, dry cloth
Weight: 3.1kg

Switch Type: Inline Cable Switch
Cable Length / Type: 1.8m – Black PVC

Bulb included: Yes
Bulb type & rating: 1x E27 LED – 6W
Bulb output: 470 Lumens / 2700 Kelvin
Bulb lifetime: 15,000 Hours use

Bulb replaceable: Yes
Max Bulb Rating: 10W LED ES
Dimmable: Yes - Additional electrical hardware required

Country of Origin: China
Energy Efficiency: F (using bulb supplied)

Downloads - Instructions

UK Specification PDF - download here
EU Specification PDF - download here
US Specification PDF - download here

Downloads - Technical

Data sheet UK Specification PDF -download here
Data sheet EU Specification PDF -download here
Data sheet US Specification PDF -download here


Complete Technical Pack -download here
(may contain 3D files, Data sheets, photometric files, energy labelling)

Downloads - Images

Cut-out Images Pack - download here

Lifestyle Images Pack - download here


To purchase a Type 75 Margaret Howell Desk Lamp or to check alternative colour options - click here