Original 1227 & Type 75
With all our Original 1227 and Type 75 Desk and Table Lamps, a high-efficiency E27 (for UK & EU)/E26 (for US) LED bulb is supplied in the pack providing the equivalent light output of a traditional 40W incandescent bulb with a warm white light.
Traditional incandescent bulbs are no longer available for purchase across the UK and Europe as the world moves to more energy efficient LED technology.
The supplied bulb will provide many years of use, at the same time saving on the running costs of the lamp.
If there is a need to change the bulb the following is a short guide, note the bulb fittings on all Anglepoise products made after 2000 are all E27 (for UK & EU)/E26 (for US) (ES) screw in bulbs and not BC Bayonet type. (However, please note that the rewire service and spares for older pre 2000 products may still use a BC Bayonet type. Check individual details)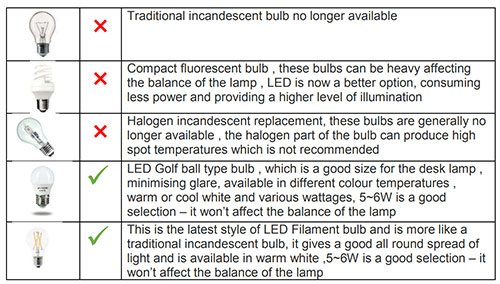 A local supermarket, hardware, DIY store, or online retailer should be able to readily supply the suggested bulbs, the colour of the light produced by the bulb may be expressed as a number, typically <3000K is warm white, 4000K is Cool White and 6500K is equivalent to daylight.

Lamps purchased in the UK or Europe require either an E27 (or for the smaller products)
an E14 bulb.
Lamps purchased in the US require an E26, A19 or A15 bulb.
The label inside the shade indicates the type and maximum wattage.
As a side note, for our sprung desk lamps, weight is important - the bulb should weigh between 25-60 grams. As bulb manufacturers don't always specify the weight of bulbs on their packaging, we suggest a pragmatic approach: take the non-functioning bulb into your local supermarket or hardware store and weigh the bulb you are planning to buy against your existing bulb.
All bulbs supplied with a product are designed to be the correct weight to allow your product to balance properly.
Our wall and pendant lights are not so sensitive to weight. Most LED bulbs will be suitable. For wall lights choose a smaller style bulb such as a golf ball to ensure it doesn't protrude from the shade.
Type 80
Our Type 80 Range of table, wall and pendants are all supplied with a compact LED bulb which allows light to glow through the light escape detail at the top of the shade as well as below.
There are many compatible E27 LED bulbs available (check the shade label for maximum wattage), but for a bulb with a similar effect as the one supplied see below (please note, these are also dimmable bulbs):
B&Q:
https://www.diy.com/departments/diall-e27-6w-500lm-mini-globe-neutral-white-led-dimmable-light-bulb/3663602667780_BQ.prd
John Lewis:
https://www.johnlewis.com/philips-25w-p45-es-led-dimmable-classic-bulb-clear/p5193712
90 Mini Mini
The Anglepoise 90 Mini Mini integrated LED bulb has a lifespan of over 20,000 hours in normal use, with potentially slight reductions in light levels after this time. So it should continue working for many years. If it malfunctions or stops working, the light module can be replaced. In this case then please contact us