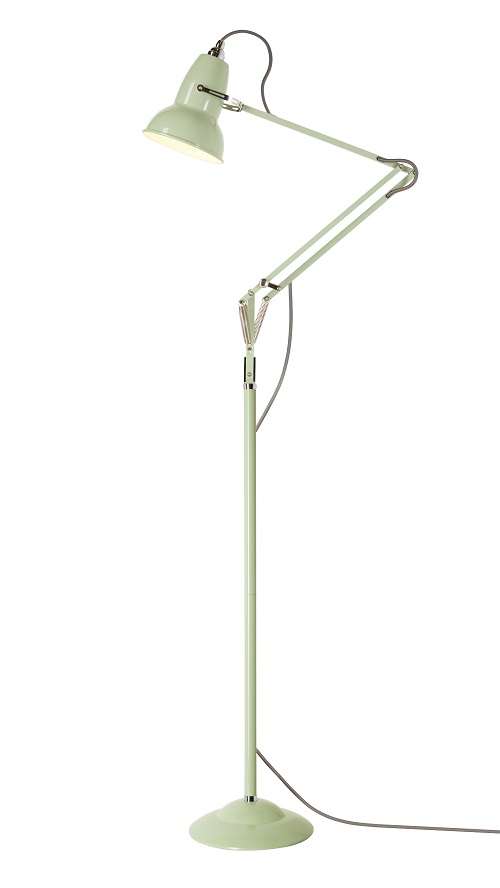 The Original 1227™ Floor Lamp blends the classic Anglepoise® shade silhouette and constant spring articulation with an attractive, braided, coloured cable.

Anglepoise and the National Trust have come together to create a timeless range of lamps that are designed to illuminate our homes and the everyday objects that bring us joy.
The funds we raise will shine a light on conservation work across some of the Trust's hidden gems including The Homewood, a modernist villa in Surrey, our source of inspiration for the first Anglepoise and National Trust collaboration.
Anglepoise will contribute in the first year of the collaboration a minimum of £15,000 to the National Trust. The funds raised will help support The Homewood, designed by architect Patrick Gwynne and gifted to the National Trust in 1999.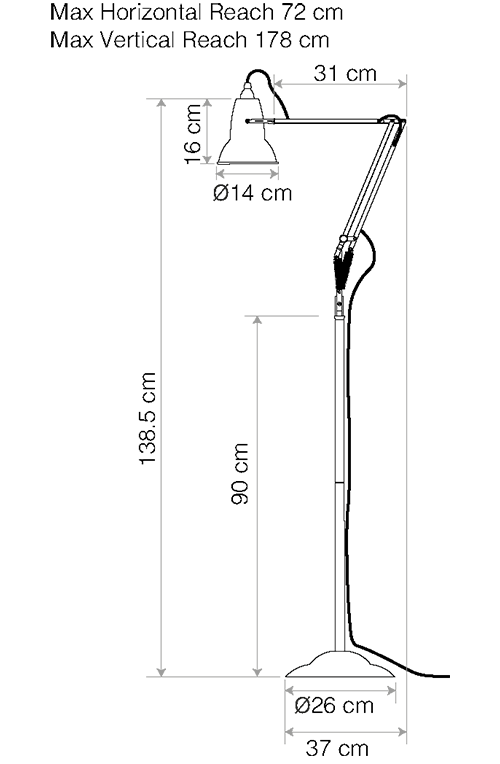 Original 1227 Floor Lamp - Dimensions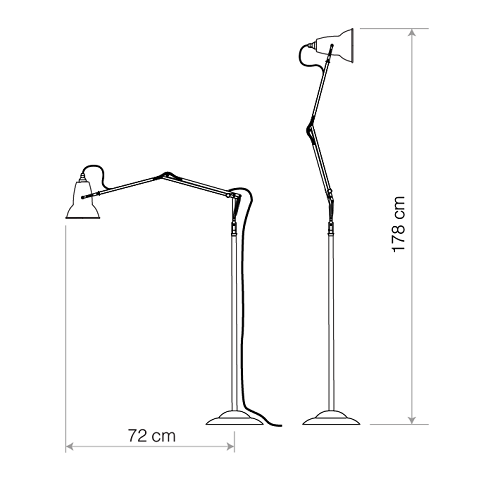 Original 1227 Floor Lamp - Maximum Reach

Product Information

Model: Original 1227 - National Trust Edition
Lamp Type: Floor Lamp
Inventor : George Carwardine

Dimensions: H140 x W44 x D25.5cm
Materials: Aluminium, Steel, Cast Iron, Chrome plated fittings
Cleaning: Clean with a soft, dry cloth
Weight: 6.5kg

Switch Type: Inline Cable Switch
Cable Length / Type: 2.5m – Braided Cable

Bulb included: Yes
Bulb type & rating: 1x E27 LED – 6W
Bulb output: 470 Lumens / 2700 Kelvin
Bulb lifetime: 15,000 Hours use

Bulb replaceable: Yes
Max Bulb Rating: 10W LED ES
Dimmable: Yes - Additional electrical hardware required
Country of Origin: China
Energy Efficiency: F (using bulb supplied)


Downloads - Instructions

UK Specification PDF - download here
Downloads - Technical

Data sheet UK Specification PDF - download here


Complete Technical Pack - download here
(Contains 3D files, Data sheets, Photometric files, Energy labelling)

Downloads - Images

Cut-out Images Pack - download here

Lifestyle Images Pack - download here


To purchase an Original 1227 Floor Lamp or to check alternative colour options - click here