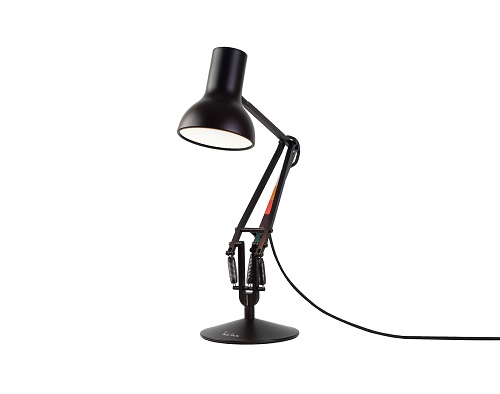 Other colour options are available.


For the first time, Paul Smith's Artist Stripe meets Sir Kenneth Grange's Type 75 design to dramatic effect. With a full black colour drench - save for stripe - the Edition 5 is a new creative approach for our collaboration.
The Edition Six in white, designed to accompany the all black Edition Five, adds the Paul Smith Artist Stripe to Sir Kenneth Grange's classic Type 75 silhouette.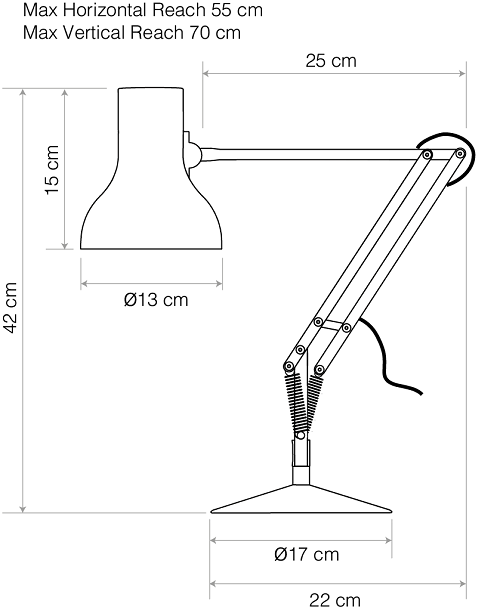 Type 75 Mini Desk Lamp - Dimensions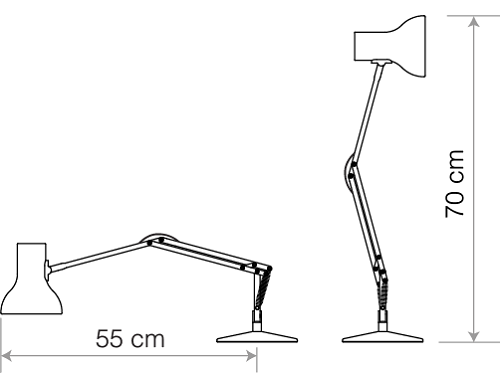 Type 75 Mini Desk Lamp - Maximum Reach


Product Information

Model: Type 75 Mini Paul Smith Edition 5 & 6
Lamp Type: Desk Lamp
Designer : Sir Kenneth Grange

Dimensions: H42 x W36 x D17cm
Materials: Aluminium, Cast Iron, Plated Steel fittings
Cleaning: Clean with a soft, dry cloth
Weight: 2.6kg

Switch Type: Integrated shade switch
Cable Length / Type: 2.5m – Black Fabric covered PVC

Bulb included: Yes
Bulb type & rating: 1x E27 LED – 6W
Bulb output: 470 Lumens / 2700 Kelvin
Bulb lifetime: 15,000 Hours use

Bulb replaceable: Yes
Max Bulb Rating: 10W LED E27
Dimmable: Yes - Additional electrical hardware required

Country of Origin: China
Energy Efficiency: F (using bulb supplied)


Downloads - Instructions

UK Specification PDF - download here
EU Specification PDF - download here
USA Specification PDF - download here
Downloads - Technical

Data sheet UK Specification PDF - download here
Data sheet EU Specification PDF - download here

Data sheet USA Specification PDF -download here
Complete Technical Pack - download here
(may contain 3D files, Data sheets, photometric files, energy labelling)

Downloads - Images

Cutout Images Pack - download here
Lifestyle Images Pack - download here

To purchase a T75 Mini Desk Lamp Paul Smith Edition 5 or 6 or to check alternative colour options - click here