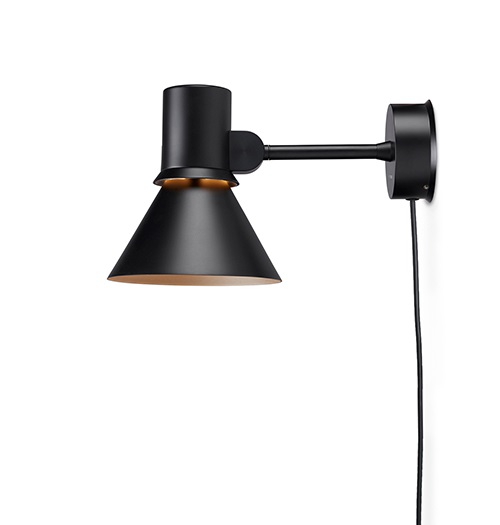 Other colour options are available.


The Type 80™ W1 Wall Light has a striking, graphic profile and features an attractive 'halo' light-escape in the shade.
Every detail has been carefully considered and precision engineered to deliver streamlined style and ease of use, including a clean, contemporary wall sconce.
Supplied with convenient plug and external cable, there is no need for electricians or disruption to your walls.
Simply mount to the wall using the screws and bracket supplied.
Plug in, switch on and then simply adjust the shade to focus the light just where you need it.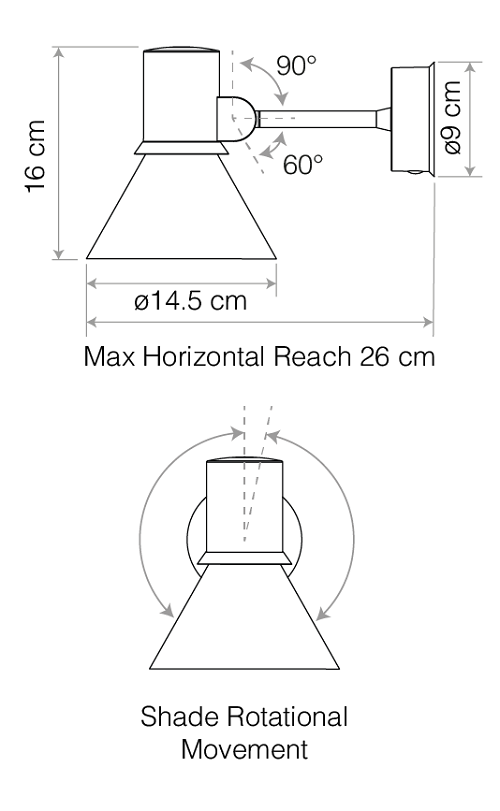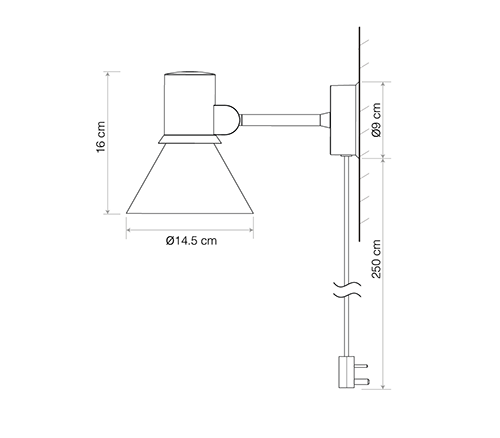 Type 80 Wall Light - Dimensions

Product Information

Model: Type 80
Lamp Type: W1 Wall Light
Designer : Sir Kenneth Grange

Dimensions: H16 x W14.5 x D26cm
Materials: Aluminium, Steel, plated fittings
Cleaning: Clean with a soft, dry cloth
Weight: 0.65kg

Switch Type: Integrated shade switch
Cable Length / Type: 2.5m – PVC Cable
Bulb included: Yes
Bulb type & rating: 1x E27 LED – 6W
Bulb output: 470 Lumens / 2700 Kelvin
Bulb lifetime: 15,000 Hours use
Bulb replaceable: Yes
Max Bulb Rating: 10W E27 ES
Dimmable: Yes - Additional electrical hardware required

Country of Origin: China
Energy Efficiency: F (using bulb supplied)


Downloads - Instructions

UK Specification PDF - download here
EU Specification PDF - download here


Downloads - Technical

Data sheet UK Specification PDF - download here
Data sheet EU Specification PDF - download here


Complete Technical Pack - download here
(Contains 3D files, Data sheets, Photometric files, Energy labelling)

Downloads - Images

Cutout Images Pack - download here
Lifestyle Images Pack - download here

To purchase a Type 80 W1 Wall Light or to check alternative colour options - click here